Hampstead Mac Ltd is NOT an authorised Apple service dealer or reseller and has NO association with Apple Inc in any way whatsoever, we never will. When we supply or fit parts there is NO implication that they are official Apple parts – Really, how many of the parts in your Mac do you think Apple Inc actually make anyway?
MacBook Battery Replacement
Don't buy cheap batteries!
Before you go any further – If you're looking for a cheap battery replacement – You're in the wrong place
Buying cheap batteries and chargers blows MacBook Logic Boards and that gets really expensive
The cheapest battery we fit is £139.00 and considerably more if you have a retina display MacBook because they are glued in and take a lot longer to do
If you have a Retina display MacBook Pro and Apple have told you that you have to replace the whole top plate – THIS IS RUBBISH! Clearly, Apple needs to train their staff better. We can change these without having to do such a ridicules thing.
MacBook batteries are made to last for about 1000 charge cycles. They can manage more sometimes, but you'll usually start noticing a difference at around 700 cycles.
So before we go any further, check your count and here's how to do it in Yosemite or El Capitan – Older operating system vary slightly.
Check you MacBook Battery count:
Click on the Apple logo at the top left corner of your screen.
Click on About this Mac.
Click on System report.
Look down the left side and click on power.
On the right have a look at the cycle count on the right.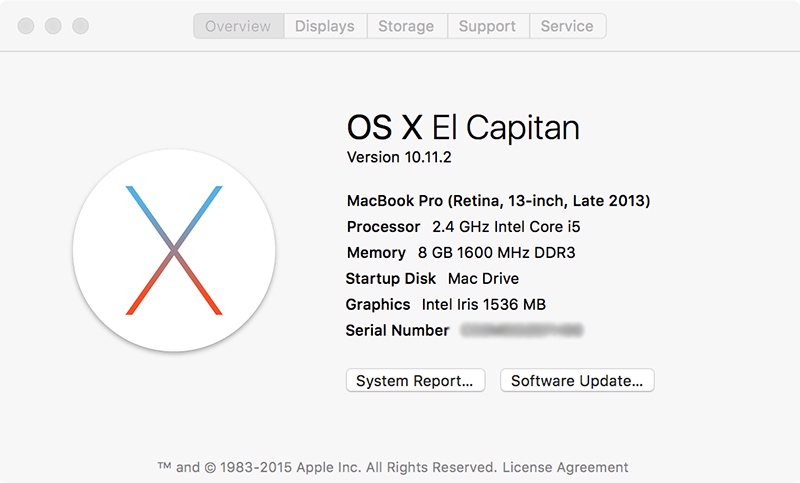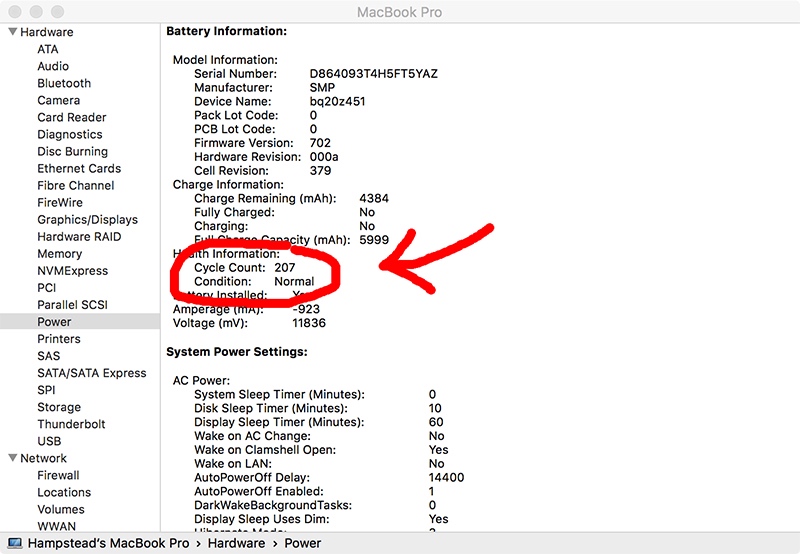 If your battery count is 800 or higher you should contact us straight away.
Having said all this, you may very well find that your MacBook Battery isn't charging even though you have a low cycle count, this is almost certainly because something else is wrong and again you should get in touch with us to arrange a booking in appointment.
MacBook batteries vary a lot in price and there are some cheap ones out there – Our advice with this one is: don't buy cheap. We are happy to give you a quote including fitting, we don't sell batteries on their own.
Some are easy to replace and some are difficult because Apple glue them in on some models and we have to take the base unit apart to get them out.
For a price on a MacBook Replacement Battery for your MacBook, give us a call. We will need the model type number which is on the underside of your MacBook. It will start with the letter "A" – Something like A1502.