– Appointments: You do need one to see us
– Diagnostics charges: We do charge for diagnostics
– Bitcoin: Pay us with Bitcoin and get a really good discount
Hampstead Mac Repairs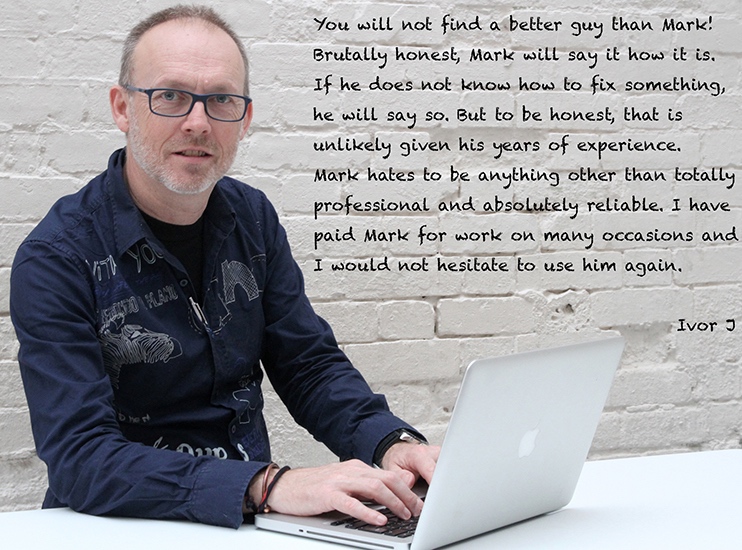 If Your Mac's Broken, Fix It – If Your Mac's Not, Make it Better!
There is NO Cloud, it's just someone else's computer!
Hampstead Mac offers a sincere invitation for you to ask us for our help, as long as you're Nice to us.
Reviews – Read what our clients and celebrity clients have to say about Hampstead Mac's open and straight talking, refreshing and no-nonsense approach towards helping and doing business with you.
After spending over a decade as a Mac Engineer at King's College London, Mark had enough and founded Hampstead Mac Repairs with one single goal in mind, to create an upfront, transparent and all around easier experience when you need a Mac Repair or Mac Repairs.
We will absolutely "never" try, or ever want to be the cheapest. Cheap Mac repairs are like cheap shoes – Rubbish!
We're in business to make money and if you're reading this, you want your Mac repaired. So it works both ways, right?
Thinking "Outside Of The Box" – Means we'll do our best to find the best solution for you.
Hampstead Mac Ltd's Mac Repair philosophy is to always repair before replace, if possible. It saves you money and our planet.
You get what you pay for and if we help you, you'll soon discover that we are really bloody good at what we do too.
So, if you've been told that it can't be fixed and you have to buy a new whatever, before you spend your hard earned money, get in touch and have a chat with us.
There's a full set of menus and links above with loads more info, so do have a click around and if you can't find the link you want, there's a search box at the top right of this page.
Warranty
Hampstead Mac Ltd offers a 90-day warranty only on all work that we do and parts. We do not offer or honour any warranty after this time period irrespective of how much you have used or not used your computer.